Daejeon Night Tour (Daejeon Junang Market, Euneungjeongi Culture Street) – Tuesday, June 11th


5Daejeon Jungang Market is a large comprehensive market consisting of many smaller markets including the Jungang Comprehensive Market, Jungang Arcade Market, Jayu Wholesale Market, New Jungang Market, and Jungang Wholesale Market. Daejeon Jungang Market is located in downtown Dong-gu and is one of the most famous traditional markets in the city. The market has many different sections (dried seafood street, hardware street, fish street, herbal medicine street, hanbok street, delicacy street, etc.) which stretch all the way from Daejeon Station to the banks of the Daejeoncheon Stream.
Euneungjeongi Culture Street in Eunhaeng-dong in downtown Daejeon is the fashion epicenter of Daejeon and is comparable to the famed Myeongdong shopping district in Seoul. Packed with plenty of things to see, eat, and enjoy, the street is bursting with the lively vigor of the street's young shoppers. In addition to landmarks like the Dongbaek branch of the Galleria Department Store, the brisk economy of the area has picked up thanks to the addition of wedding shops and other business. Easily accessible via public transportation, traffic on the street is limited to create a safer environment for visitors to enjoy the thriving street culture.
*Dinner is not included.
*If you want to attend Night Tour, Please check 'Yes' box in 'Night Tour' when you make a registration form.
*It departs around 6 pm from DCC. Tour takes about 2~3 hours. Detailed information will be announced before the conference.
---
Welcome Reception– Wednesday, June 12th
Are you ready for the welcome reception to open ICWE 2018 officially? The welcome reception will be in held in the sky lounge of  "KAIST main library building" which has nice views over the campus of Korea Advanced Institute of Science and Technology, KAIST. It will start at 19:00, and shuttle buses will be arranged from venue. At the sky lounge on the top floor of the building, you can look down on KAIST campus and Gapcheon which is the symbol of Daejeon.
Before we start the reception, there will be a chance to visit Vision Hall. At the hall, you can see the past, present and the future of KAIST at the same place. KAIST vision hall includes foot prints of our university, which has aimed inclusive growth and suggested creative resolutions by challenging the road no one has been. Also, it is illuminating bright future where 'More beautiful changes than we expected' KAIST will make under the 'C3' spirit, Challenge to solve the dilemmas of mankind, creativity and caring, which includes inclusiveness and respect. Details

---
Gala Dinner– Thursday, June 13th
It will be one of the best experiences while you are staying in Korea during the conference. The dinner will be held at Ssangcheong-Dang, where is equipped as very traditional house of Korea.

---
Tour to Gyeongbokgung Palace in Seoul – Friday, June 14th
On the last day of the conference, there will be tour to Gyeongbokgung Place in Seoul, the capital city. If you are planning to stay in Seoul for few more days, we recommend taking this opportunity to come with us!
It is the largest of the five palaces constructed by the Joseon Dynasty. Joseon lasted for 500 years and laid the foundation for major aspects of Korean culture and identity, including the entrenchment of Confucian ideals and doctrines in Korean society, and the importation and adaptation of Chinese culture.

Seoul is the capital of Korea and is the heart of Korea's culture and education as well as politics and economy. Seoul is home to many historic sites and places of traditional culture. The shopping and entertainment districts also draw a large number of tourists every year. The Hangang River, which runs through the center of the city, is a distinctive landscape of Seoul that offers a myriad of resting areas for citizens.
If you need more information about Seoul, Please click here.
*Hotels near Gyeongbokgung Palace
There are many hotels in Seoul. If you need to book a hotel nearby Gyeongbokgung Palace, You can book hotels which are located around the Gwanghwamun Gate or City hall.
If you click the name of the hotel, You can visit to hotel's website.
You can find hotels through the map below.
If you need more information about hotels in Seoul, Please click here.
If you want to stay in unique stays (ex. Hanok ; Korean traditional house) or guesthouse, Please click here.
*Transportation from Hotels in Gwanghwamun Gate / City Hall
From those hotels to Incheon International Airport, You can take an airport bus #6701.
You can see bus stops through the map above.
Bus No.

Fare

First / Last Bus

Interval

6701
₩16,000
(Airport-bound)
04:45 / 19:04
41times/day
Route
Also, You can take the AREX (airport railway) at the Seoul station.
You can go to Seoul Station by subway Line No.1. It takes 3 minutes.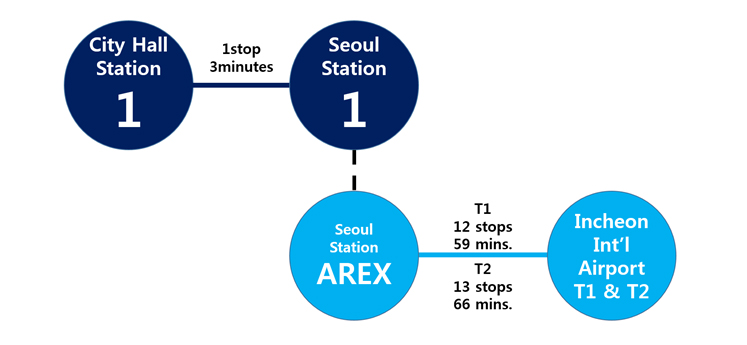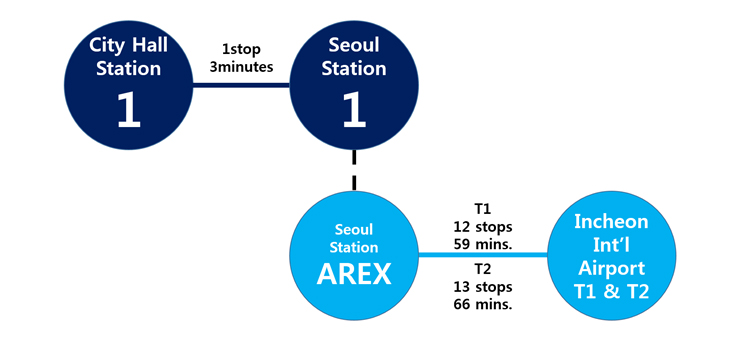 There is AREX Express which runs directly from Seoul station to Incheon Airport.
If you need more information about AREX, Please click here.
---
Water sports in Gapcheon
Free access is available for anyone to experience water sports in the river. Hanbit Tower and Expo Bridge are a beautiful sight from the river while enjoy water sports.
Available Date and Time: 11:00, 12:00, 13:00, and 15:00 at June 11 – 13, 2019
Place : Expo Lake park Water sports area (Address: 397, Manyeon-dong, Seo-gu, Daejeon)
Fee: Free of charge
Category : Boating, lifting, leisure canoe, pedal boat, water bicycle, etc.
Information : First come first served / For canoe, pedal boat and water bicycle use immediately on reservation required / For boating and lifting (call for group reservation required)
Note: Clothes may be wet during water sports
If you would like to attend the above program, please upload your application form when you register for the conference.
Also the onsite reservation at tour desk can be available.